Smartshop spray booths powered by compact HPC compressors
COMPACT HPC COMPRESSORS HELP TO POWER SMARTSHOP - PORTABLE SPRAYBOOTHS
The Smartshop might sound like the name of a high street clothing store or a trendy retail brand but actually it's something completely different. it is a revolutionary new and fully patented concept for car body repair. Developed by David Utting Engineering, a family owned company based in Norwich, the Smartshop is a new concept in automotive spray booths which offers a better alternative to the limitations of the van and tent mobile repair spray facility and the expense of a permanent bodyshop. Smartshop provides a compact and integral on-site spraying facility without the potential problems associated with planning permission and costs of a permanent building extension.
Established in 1924, David Utting Engineering has since the late 1980's, focused its engineering skills on creating 'the perfect spraying environment'. As a consequence they are now firmly established as one of the UK's premier spray booth manufacturers and installers so the development of The Smartshop is a good example of them applying their specific engineering skills combined with their entrepreneurial spirit.
It's a fact that today's motor dealerships are under increasing pressure to maximise available retail space and increase profits. Furthermore, whilst they are expected to offer customers the widest choice of facilities, the battle for space means that body repair facilities are increasingly being outsourced or located off-site. However, the Smartshop is not only aimed at larger dealerships, it also provides an affordable solution to smaller motor dealers and garages that operate on more limited budgets and is also being considered by some major supermarkets.
The Smartshop concept is appealing because it provides dealerships and garages with the convenience and flexibility of a fully compliant, self-contained spraybooth and low-bake oven which can be rented, installed on-site and in most cases, be up-and-running on the day of delivery.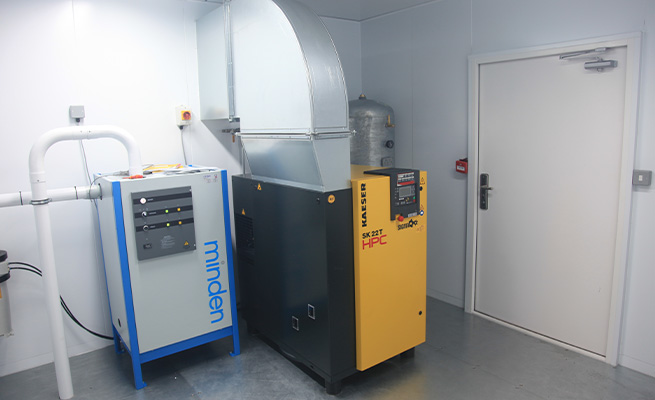 The Challenge
Among the essential ingredients for the Smartshop is a reliable supply of high quality, clean and dry compressed air delivered to the operators spray guns and breathing equipment. However, due to space limitations within the portable Smartshops all the necessary components, including the compressors need to be as compact as possible and quiet running, without compromising on quality. As a pre-fabricated unit the Smartshop measures just 9m x 4m (Length and Width) and provides enough space for cars up to a large 4 x 4, to be driven in and enables one, or two operators, to complete the spraying process around the vehicle. Approximately 2.5m of the overall 9m length of each Smartshop is devoted to workbench space, paint mix room, spray gun cleaner, the screw compressor and associated drying and filtration equipment, plus other control equipment.
The Solution
HPC Compressed Air Systems has developed a long and successful working relationship with David Utting Engineering through their Norwich based centre and over the course of 20 years has specified, supplied and maintained compressors for a wide range of bespoke spraybooths as the company has expanded. David Utting Engineering were therefore confident in HPC's ability to supply the right solution which resulted in them specifying HPC's compact 4kw SX6 rotary screw compressor which is designed to provide high quality compressed air with outstanding efficiency and reliability. The SX6 compressor provides 0.6m³/min (21.2 cfm) at 7.5 bar operating pressure within a small footprint of only 590mm x 632mm x 970mm (WxDxH) and weighs 145kg. Completing the package and working in conjunction with the compressor is an HPC TAH 7 KRYOSEC refrigerant dryer complete with high-efficiency filtration to remove moisture and any contaminants from the air supply.
As with most compressor applications air drying is an essential part of the air treatment process to eliminate the problems of condensation and its potential for causing spray finish issues or corrosion in pipework or air tools used in the spraying process. In the very compact environment of the Smartshop unit, the KRYOSEC TAH7 direct expansion refrigerant dryer provides the benefits of dependable and highly efficient drying.
This is achieved as a result of the TAH7's generously dimensioned heat exchanger, optimised refrigerant liquefaction surfaces and dedicated cooling air flow all housed within a very compact unit which for this application, is wall-mounted.
The Benefits
There are a number of factors which have taken the concept of the Smartshop idea into the reality of an effective and successful solution and the compressor 'package', supplied by HPC, is acknowledged as being a key component of this success. A pilot installation of the Smartshop in early 2013 was collaboration between David Utting Engineering and a leading Mercedes Benz dealership who were looking at ways to include bodyshop repairs into their operations. David Uttings Smartshop solution was offered, put into production and has subsequently received full Mercedes approval. Commenting on the role of the HPC compressor package within the Smartshop concept, David Utting said, "The HPC compressor, dryer and filtration system has worked extremely well in supplying clean, dry compressed air to the operators spray guns and achieves this within the extremely limited space confines of the Smartshop control room". David added, "We particularly appreciate its reliability which is something we have always acknowledged with the products of HPC, also Steve Holman and his team at HPC Norwich are great to work with and feel like part of our team".
The technically challenging aspects of this application combined with the extreme space limitations of the Smartshop spraybooths is a good example of the ability of HPC to provide specialist and comprehensive advice and supply the best solutions for all aspects of compressed air technology, whether it be for the most complex, high volume bespoke systems, or the smallest, low pressure systems.